Flea & Tick Prevention Oakland, TN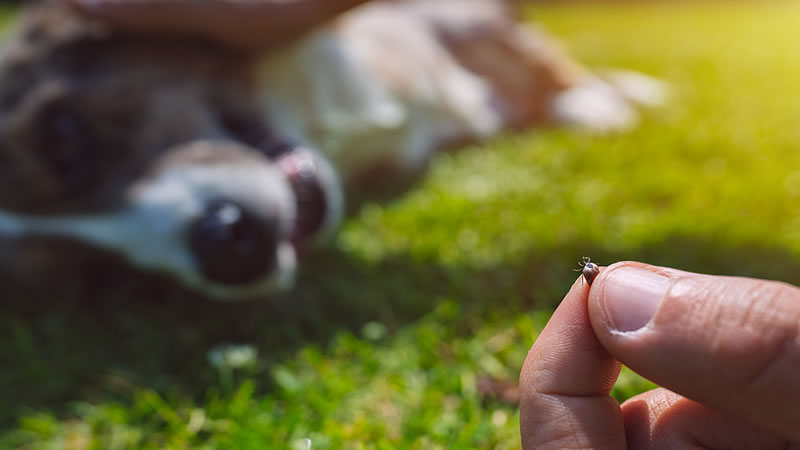 Flea and Tick Spraying and Control
You go to give your dog some love and as you run your hands over their fur you feel that little "bump"... and upon closer inspection you find that it's a tick, feasting on your pet.  Or, you're spending time with your child in a carpeted room of your home only to see nasty little black bugs jumping around the carpet and onto you or your childs skin.  As a homeowner with pets and property you've probably already experienced this.  It's gross, and makes you uncomfortable, and even a little embarrassed if you have friends or family over.
The majority of fleas and ticks that find their way into your home usually hitched a ride on one of your pets.  If you have plenty of grassy areas, woodlands, or gardens with many shrubs and bushes, this is ideal habitat for these nuisance little pests.  Both ticks and fleas can carry disease that is harmful to both humans and pets.  If the thought of fleas and ticks on your property and in your home makes your skin crawl, don't worry!  There are very effective solutions to these problems.
Mid-South Turf Professionals is based out of Oakland, Tennessee and serving Shelby County, Fayette County, DeSoto County, MS and the surrounding areas.  We specialize in pest control and reducing the amount of fleas and ticks around your property with the careful application of flea and tick sprays.  With regular, seasonal applications to your lawn, trees, and bushes that surround your property this problem can be quickly brought under control.
Is Flea and Tick Spraying Safe?
Yes.  Although we do ask that you keep your pets and children off the lawn and garden areas for at least 2 hours after each application.  Our three application program is safe for pets and children and is very effective at keeping the fleas and ticks out of your yard and gardens so your pets and children can enjoy your property without worry.  Our comprehensive flea and tick control program will keep these nasty little critters out of your home.
Why Should You Choose Mid-South Turf Professionals To Treat Your Lawn For Fleas & Ticks?
Mid-South Turf Professionals is a family owned and operated local business.  When you come to us with a problem that our company can solve, we take that seriously!  Fleas and ticks are an annoying and inconvenient problem.  Our team of experts can provide you with a real solution to control the fleas and ticks on your property throughout the year.
If you have a flea and tick problem and want fast, fair, and affordable expert advice and solutions then Mid-South Turf Professionals is ready and waiting to serve you.
If you'd like to get an estimate for flea and tick spraying services on your property please give us a call 901-494-9088 or fill out our online contact form and we'll get back to you right away.