Lawn Fertilizing Oakland, TN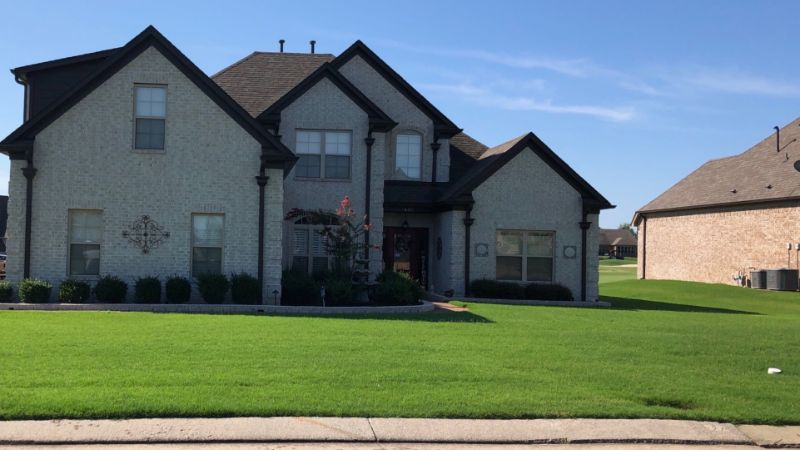 Fertilizing Services For Your Lawn In Fayette County And Shelby County, TN
Did you know that the most beautiful, thick, lush, green lawns throughout Tennessee usually have a few things in common? First, they are usually all properly maintained and cared for by professional turf experts who know exactly how to care for a lawn and secondly they are probably implementing a regular feeding and fertilization program to provide the grass with the nutrients it needs to stay in a very healthy, lush, green state.  It's not luck... It's an understanding of the specific type of grass, it's health, and the soil conditions.  It's science!
Mid-South Turf Professionals is a lawn and turf care company based out of Oakland, TN and serving Fayette County, Tipton County in Tennessee and Desoto County just across the state line in Mississippi.  We specialize in comprehensive lawn fertilization and lawn feeding services to improve the curb appeal of our clients lawns.
We can provide our multi-step lawn care and fertilization services for residential properties, private estates, and we also provide services for HOA's, townhomes and residential developments too.
Lawn Fertilizing Services Oakland, TN
Scheduled Lawn Fertilization
Commercial Lawn Fertilization
Public Facility Lawn Fertilization
Lawn Restorations and Patch Repair
What Does Your Lawn Actually Need For Fertilizer?
Like all plants, your lawn thrives on the elements NPK.  This stands for Nitrogen (which is good for lush green vegetative growth), Phosphorus, and Potassium.  Your grass requires these elements and many other trace elements in varying amounts throughout the year.  For example, in the spring when rapid growth is happening very quickly your grass will need lots of Nitrogen, more so than other elements.  Knowing this important balance of nutrient requirements makes a big difference in how effective your lawn feeding strategy will be.
Fertilizer isn't just a one time thing either… If you want a healthy looking lawn then it needs to be fed at regular intervals for the best results.  There are literally thousands of lawn fertilizing products on the market but there are only a select few that work exceptionally well in Tennessee.
We use only the highest quality lawn fertilizers and we are licensed to apply them to your property. We are knowledgeable about the lawn feeding products we use and we'll be able to come up with a program suitable for your lawn.
If you'd like to lawn fertilization services for your property please give us a call 901-494-9088 or fill out our online contact form and we'll get back to you right away.