Lawn Weed Control Services Oakland, TN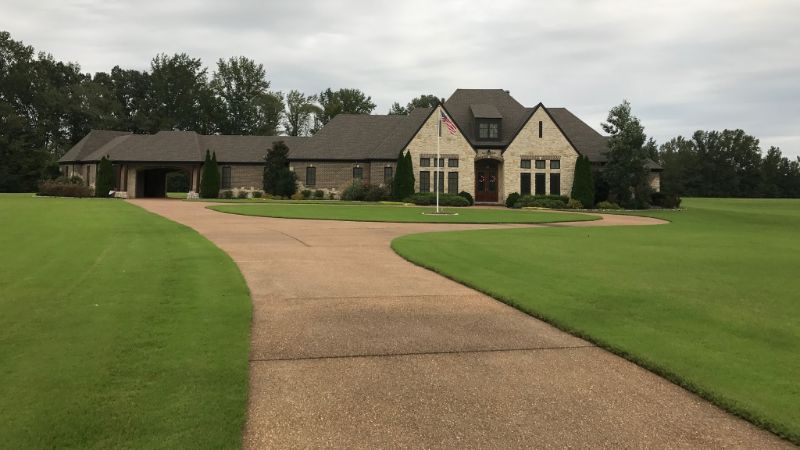 Are Weeds Causing A Problem With Your Lawn?
We offer year-round, reliable weed control services.
It's tough to have a beautiful, thick green lawn when that sea of green is interrupted by the growth of invasive and unsightly weeds.  The best way to control weeds in your lawn is to have a healthy lawn in the first place.  Healthy, thick grass, leaves no room for weeds to grow and take hold but if your lawn is already overrun with weeds or has sporadic weed growth then you need to address the problem quickly.  Hiring a professional to control the weeds in your lawn will free up your time and yield faster, longer-lasting results.
Mid-South Turf Professionals is a lawn and turf care company based out of Oakland, TN and serving Fayette County, Tipton County in Tennessee and Desoto County just across the state line in Mississippi. We specialize in the removal of weeds from lawns, flower beds, sports fields, parks, recreation areas and more.  Our comprehensive weed control program tackles your weed problem at different stages of weeds growth cycle and is very effective at reducing and eventually eliminating weeds from your lawn all together.
We offer our lawn weed control services as part of our regular lawn care programs for both residential and commercial clients who want to improve their curb appeal with a beautiful weed-free lawn.
There are many types of undesirable weeds that commonly afflict lawns and flower beds throughout Tennessee.  They can be divided into three primary types;
Broadleaf weeds
Grass weeds
Sedges.
The easiest and fastest way to get weed growth under control is with the use of herbicides.  The two types of herbicides professionals use are pre-emergence and postemergence and they both play important roles in getting those weeds under control.  Pre-emergent weed control is generally applied twice in the spring and once in the fall and it prevents the germination and initial growth of weeds.  Postemergence is applied after the weeds have grown and usually requires multiple applications.
If your lawn is left alone, weeds like Crab Grass, White Clover, Buttercup, Knotweed or Dandelions and a host of other noxious weeds can take over your lawn and gardens in a hurry.  The weeds will eventually starve out the desirable plants (your grass) of nutrients, weeds often grow faster and they only become more dominant as they continue to propagate and multiply.  Eventually the weeds will end up choking out the grass and all of a sudden your lawn looks more like a jungle then a beautiful, lush, green lawn.
*Please understand that depending on how your lawn looks and it's current condition it could take multiple treatments to get your weeds under control. A perfect lawn is not achieved overnight, it can takes weeks, sometimes months to get the desired results.  Regardless of the state of your lawn, we'll be able to put a comprehensive plan together to tackle your weed problem.
What Type Of Weeds Do You Have?
You can get a detailed list of lawn weeds common in Tennessee by visiting the Shelby County website where they have a Guide For Managing Lawn Weeds For Tennessee Homeowners.
If you recognize what you're dealing with on your property please let us know when you contact us so we can offer more detailed information when we reply to you.
Getting rid of weeds properly can be a long process, especially if you have a large property and the problem has gotten out of control.
The best option is to spray and we have a few different products at our disposal depending on how severe the problem is or how aggressive you'd like to get.
Lawn Weed Control Services
Noxious Weed Control For Lawns
Crab Grass Removal/Spraying
Weed Control For Commercial Landscapes
Long-Term Weed Control Programs
How Our Lawn and Flower Bed Weed Control Process Works
The first step is for us to have an initial visit to your property so we can mutually determine the state of your lawn and flower beds and what type of weed control attention (or more) it might require.  Some of the lawns we visit for weed control services are well beyond the point of bringing them back easily.  We'll tell you if that's the case and we can come up with a plan to have the area looking beautiful once again.  Our typical treatment program is a 7 treatment program that we back with our weed-free guarantee.
Our 7 Treatment Weed Free Guarantee Program
 Split Application Spring Pre Emerge

 Split Application Spring Pre Emerge

 Early Summer Fertilizer with Post Emerge

 Mid Summer Fertilizer with Post Emerge

 Late Summer Fertilizer with Post Emerge

 Fall Pre Emerge with Post Emerge

 Lime with Post Emerge
Remember, the goal of our weed control program isn't necessarily to remove weeds.  That is certainly one of our objectives, but the main goal is to get your lawn into a very healthy state of growth so it's an undesirable environment for weeds to grow.  Long-term weed control needs healthy grass.  If the focus is only on controlling the weeds, your lawn will probably never look as beautiful as you'd like.
How Can You Get Your Weed Control Program Started?
The first step is to reach out and contact us.  We'll need to arrange a time that we can come out and view your lawn so that we can determine what state it's currently in, answer any questions, and come up with a plan to attack the weed problem.
We start with our initial consultation.
We check out the health of your lawn/garden and determine a suitable weed control program.
We show up on the scheduled days and complete our services as promised. (weather permitting)
The end result will be a beautiful lawn or garden free of unsightly weeds!
After we've visited your property and discussed the project with you we'll be to provide you with an accurate cost estimate for our services along with information on the products we've recommended to rid your property of weeds.
If you'd like to schedule our weed control services for your property please give us a call 901-494-9088 or fill out our online contact form and we'll get back to you right away.