Lawn Growth Regulator Oakland, TN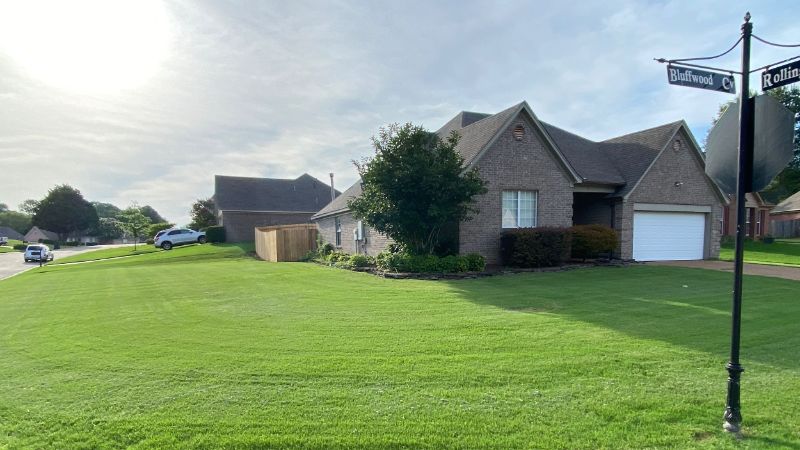 One of the downsides to a beautiful, healthy, lawn is that you need to cut it, usually once per week.  You'll be happy to know, we have a solution for that!  Lawn growth regulator keeps your grass healthy and thick but slows it's vertical growth so you can reduce the amount of mowing required.  In some cases you can reduce your mowing by as much as 50%!
Mid-South Turf Professionals is a lawn care company based out of Oakland, TN and serving Fayette County, and Tipton County in Tennessee and Desoto County just across the state line in Mississippi.  We specialize in applying plant growth regulators (PGRs) to our clients lawn to keep the lawn healthy and green while reducing the amount of mowing and maintenance required.
Plant growth regulators (PGRs) have been around for a long time. Previously, PGRs were primarily used by golf courses and other sports fields, but there has been a growing interest in PGRs for residential lawn care as people discover the benefits of reducing maintenance.
How Do PGRs Work?
Plant growth regulators temporarily inhibit cell elongation by suppressing gibberellic acid (GA), a hormone responsible for cell elongation. More specifically, this suppresses the plants vertical growth without interfering with plant respiration, photosynthesis, or other internal functions.
Since there is no vertical growth, the plant's energy is diverted into lateral and below-ground growth of rhizomes, stolons, tillers and roots. With less energy being expended for growth, this allows the grass to form a better root system as well. Your grass will begin to spread out, rather than up, with an improved root system that will give you a thick, deep green, lawn!
Benefits of Plant Growth Regulator
PGRs provide an innovative solution to the growth and development of the grass, but what does that mean for your lawn?
Reduce Mowing By About 50%
The most obvious benefit to having a PGR applied to your lawn is the slowed growth. Having your mowing events cut in half sounds appealing to just about anyone. Whether you cut your own grass, or you have a mowing service, a PGR treatment plan will save you time and money when it comes to mowing. Half the mowing also means half the clippings, edging, and weed eating. Less yard work? Sounds good to me!
Less Watering
When using a PGR on your lawn, your root system will improve and begin to reach deeper into the soil giving the roots access to deeper soil moisture. This also makes the grass more tolerant to drought/heat stress. Additionally, as the thickness of your lawn increases, the amount of moisture lost to evaporation decreases. Your lawn will require less watering, and be more forgiving if you do forget to water, all while staying green later into the year.
Improved Weed Control and Durability
Plant growth regulator is not a weed control herbicide and does not kill weeds. The weed control benefit comes from the thicker turf that's created when using a PGR. As your lawn density increases, it makes it more difficult for unpreventable summer weeds to come through. Essentially, as your lawn thickens it will begin to choke out those stubborn summer weeds.
A more durable lawn means the turf is dense and healthy enough to handle your life. Whether its kids, pets, or all the entertaining you do, your grass will get trampled out if it's not properly maintained. Growth regulator will make your lawn thicker and healthier so it thrives under your day-to-day traffic.
If you would like more information on our growth regulator program, please fill out a quote request form here or give the office a call at 901-494-9088.